Bag Filter Housings
Our Advantage
Solid wooden packaging.
Mature technology of bag filter.
Free CAD or 3D drawing available.
Can customize according to pressure and customer's special request.
Stcriclty selected steel supplier to ensure the stable quality and price.
Stainless Steel Bag Filter Housing, Bag Filter Housing, Bag Filter Manufacturer.
Perfectly welding and polishing by our experienced welder, ensuring strong structure as well as elegant appearance.
Bag Filter Housings
Our Product
Bag Filter Housing
Description
JX Filtration has been manufacturing bag filter housings for many years. Bag Filter Housings is also known as Bag Filter Vessel and Industrial Filter Housings, Stainless Steel Bag Filter Housings.

Bag Filter Housings consists of filter body, filter bag, stainless steel mesh, etc. The filter bag is supported by the stainless steel mesh inside. The liquid flows into the chamber via the inlet and goes through the filter bag.
Then the liquid permeates the filter bag to obtain qualified liquid while the impurities are blocked in the filter bag. The filter bag can be reused repeatedly after washing or cleaning. And also, the filter bag is easy to change. With no material consumption, this filter has a low operation cost.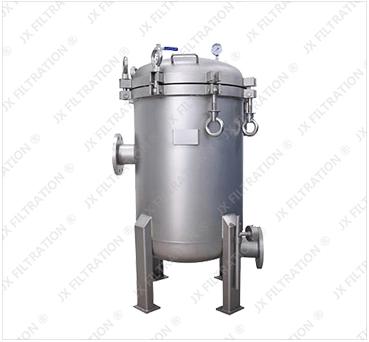 Best Factory, Best Product. Contact Now !!!
Working Principle
The raw material, in the effects of stress, through the filter bag. Amounts of particles will be intercepted and retained in multi-filter bags. Filtrate along metal bearing a basket with netting on top wall outflow through the outlet and achieve the filter's purpose. The filter bags could be reusable after washing and cleaning, and filtering different size particles by changing other slot size filter bags.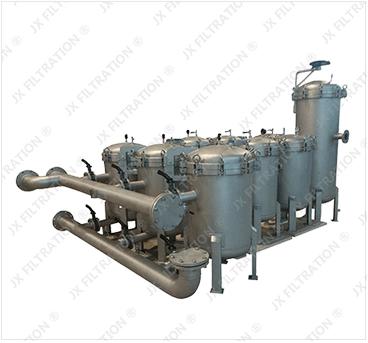 Opening type
● Swing arms: handwheel cover opening design, widely used and most economical
● Quick Opening cover: mechanical hoop opening design(no bolt), easy and safe operation, time and labor-saving
● Spring-open cover: 105° Cover opening angle to avoid the trouble of insufficient space at the right and left.
● Rotating type cover: Balancing rotation at right and left to avoid the trouble of insufficient height space
Free Drawings, Support Customized. Contact Now !!!

Advantages
Higher capacity with small size;
Labor-saving: easy to replace filter bag, no need to clean the filter;
Cost-saving: filter bag can be used repeatedly after cleaning;
High precision: can be reached o.5μm;
Low leakage risk which ensures high filtering quality;
Energy-saving: high working pressure, low-pressure loss, and low operation cost;
Wide application, flexible use, and various installation method for choice;
Suitable for replacing a long time using filter bags;


Inlet/Oulet type
- Side-in & Side out;
- Side-in & bottom out;
- Bottom-in & bottom out.
Application
Chemical Industry
Pharmacy
Automobile Industry
Light Industry
Food Industry
Electroplating Industry, Etc.
Bag Filter Housing
Related Cases