Dissolved Air Flotation
Our Advantage
Large capacity, high efficiency and small occupying space.
Compact structure, easy operation and maintenance.
High TDS and saltwater tolerance Chemical treatment flexibility.
Dissolved Air Flotation
Description
Dissolved Air Flotation is a widely-used solid-liquid separation equipment in wastewater treatment industry. It can effectively remove the suspensions, oils, and adhesives in the wastewater, one of the key equipment in the early processing. It can remove the floated flocs that are difficult to precipitate.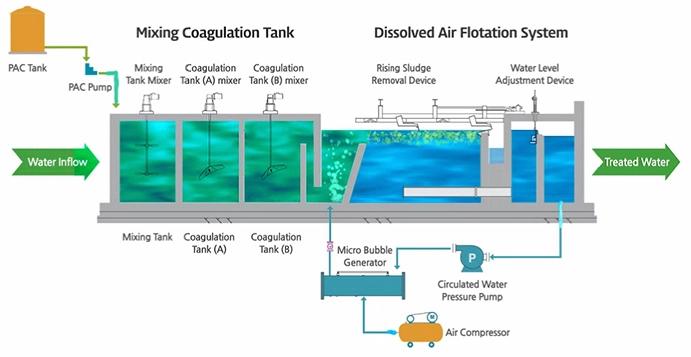 Best Factory, Best Product. Contact Now !!!
Working principle
The dissolving air tank can produce dissolving gas which later be released to the water waiting to be treated through the release device. It will form tiny bubbles of 20-40um and those tiny bubbles will combine with suspended solids in the waste water to make the proportion of these suspended solids smaller than water and gradually float to the surface to form scums. With a scraper system on the surface, these scums will be scraped into the sludge pool while the water will enter the clean pond from the lower part of the overflow trough.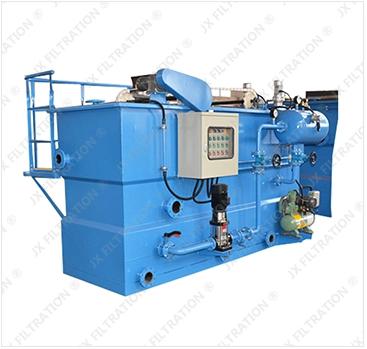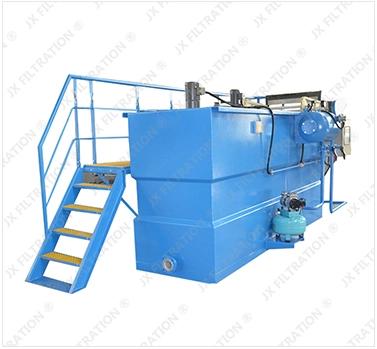 Application
Slaughtering, starch, pharmaceuticals, papermaking, printing and dyeing, leather and tannery, petrochemical industry, domestic wastewater, etc.
Dissolved Air Flotation
Related Product
Dissolved Air Flotation
Related Cases
Dissolved Air Flotation
FAQ
Where is your factory?
We have three factories in Sichuan, Hebei, Jiangsu. Because the difference of customer locations, raw material price, factory wages and other considerations. In this way, we can provide the best quality product with lower cost.
Do you have a certification?
Yes. we have ISO/CE/BV/SGS/TUV certificate and patent certificate.
How about the delivery time?
Usually 1-15 days after prepayment is confirmed.
Do you have a design team?
Yes, we have. Providing drawing, electric drawing and others.
What is your payment?
T/T, L/C, Western Union, Paypal.
Can you provide certificate of origin?
yes, we can provide CO as well as FORM E, FOEM F and etc.
Can you accept OEM?
Yes, we could do OEM for you.
Can you send me a sample?
Yes.1-3 days for delivery.
Dissolved Air Flotation Machine
Our Service
Professional Pre-sale
Service

Filtration method and
equipment recommendation.

Free CAD or 3D
drawing provided.

Free phone call.

Complete Service
During Sales

On time delivery.


Equipment inspection
by photo or video.

Secure and standard
package provided.
After Sales Service


Installation assist by
phone call or video.

Free accessories provide
for maintenance.

Engineer sent for
solving onsite problem.