Rotary Drum Filter
Our Advantage
Free CAD or 3D drawing available.
Siemens or SEW motors to ensure the operation stability.
Schneider or Siemens control system with multi-language display.
Perfect after-sales service with maximum 5 year quality guarantee.
Can be customize according to filter media, filter precision and customer's request.
Rich experience in all kind of applications to ensure every equipment can be fully used.
Independent research and Autonomous production of key component to ensure equipment quality.
Rotary Drum Filter
Description
The technology of this equipment is called microfiltration. It is used to separate the micro suspended solid (paper fiber) out of the liquid to reach solid-liquid separation. Microfiltration is that the filter media has tiny space and intercepts the suspended solid by the filter drum's centrifugal force. This equipment is designed to improve the current drum filter, easy to be clogged, easy to be damaged, high maintenance cost, and other problems.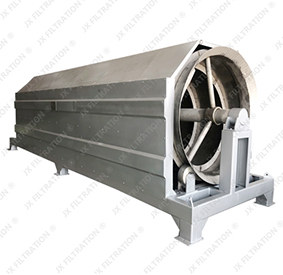 It can be applied in any circumstance which needs solid-liquid separation, such as municipal sewage treatment, paper making wastewater treatment, printing and dyeing wastewater treatment, chemical wastewater treatment, etc.
It is mainly applied in papermaking wastewater treatment.Rotary Drum Filter is an internally fed screening device with the flow being fed and distributed inside a screening cylinder. It is widely used to separate settleable solids from liquid in the municipal and industrial wastewater treatment plants. Rotary Drum Filter can be designed to open type or fully covered type according to the onsite working condition.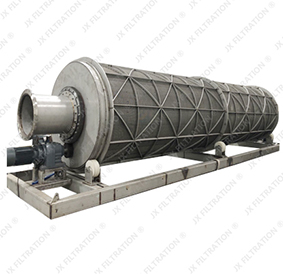 Free Drawings, Support Customized. Contact Now !!!
Working Principle
When the sewage water enters the overflow water distributor through the water inlet, it will stay awhile to steady the flow. Then it will flow out evenly through the water outlet and distribute on the filter screen, which is rotated in a contrary direction. The water flow and the inner screen generate relative shear movement. The solid will be separated and discharged from the other end of the screen, and the wastewater flows out from the effluent outlet at the bottom. The outside of the filter screen is configured with a washing pipe, ensuring the filter screen's filtering capacity.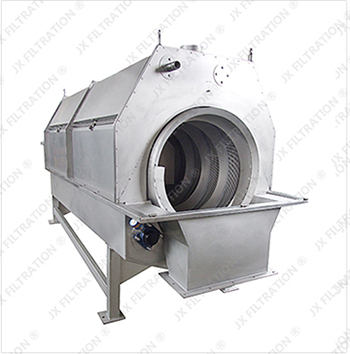 Main structure
The drum filter is a mechanical filtering device consisting of a driving device, overflow water distributor, washing water device, filter screen, base, and other parts. The filter screen is stainless steel wedge wire screen.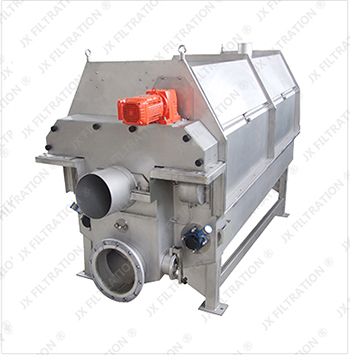 Two Types of Screens
Perforated Screens--provide a high capture rate of materials bigger than the perforation size.
Wedge Wire Screens--minimize the risk of clogging and maximizes permeability ratio with the V-shaped profile.

Application
Water treatment plants, Municipal wastewater treatment plants
Industrial waste water treatment plants: paper mills, food industry, beet industry, leather industry, textile industry, plastic recycling industry, etc.
Features and Advantages
1. Simple structure, stable operation, easy maintenance, and long using life.
2. High treatment capacity, high efficiency.
3. Generally, the recycling rate of waste fiber is more than 80%.
4. Easy installation, less space covering, low-speed operation, energy saving.
5. Continuously automatic process, the recycled fiber concentration can reach more than 12%.

Rotary Drum Filter
Related Product
Rotary Drum Filter
Related Cases
Rotary Drum Filter
FAQ
Where is your factory?
We have three factories in Sichuan, Hebei, Jiangsu. Because the difference of customer locations, raw material price, factory wages and other considerations. In this way, we can provide the best quality product with lower cost.
Do you have a certification?
Yes. we have ISO/CE/BV/SGS/TUV certificate and patent certificate.
How about the delivery time?
Usually 1-15 days after prepayment is confirmed.
Do you have a design team?
Yes, we have. Providing drawing, electric drawing and others.
What is your payment?
T/T, L/C, Western Union, Paypal.
Can you provide certificate of origin?
yes, we can provide CO as well as FORM E, FOEM F and etc.
Can you accept OEM?
Yes, we could do OEM for you.
Can you send me a sample?
Yes.1-3 days for delivery.
Rotary Drum Filter
Our Service
Professional Pre-sale
Service

Filtration method and
equipment recommendation.

Free CAD or 3D
drawing provided.

Free phone call.

Complete Service
During Sales

On time delivery.


Equipment inspection
by photo or video.

Secure and standard
package provided.
After Sales Service


Installation assist by
phone call or video.

Free accessories provide
for maintenance.

Engineer sent for
solving onsite problem.