Vacuum Rotary Filter
Our Advantage
Low Submergence, High Capacity.
Vacuum is constant around the drum.
Adaptive to a wide range of solids.
High speeds and minimal pressure drop.
Low maintenance & Low power requirements.
Superior knife advance system and longer-lasting knife.
Continuous Vacuum Filter, Rotary Vacuum Drum Filter, Vacuum Drum Filter.
Vacuum Rotary Filter
Description
Vacuum Rotary Filter provide a wide range of liquid-solids separation for many types of industrial processing flow sheets. They offer the operating flexibility to handle dewatering, washing and clarification applications, or a combination of the two.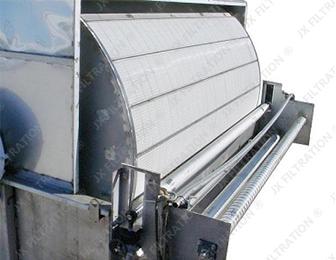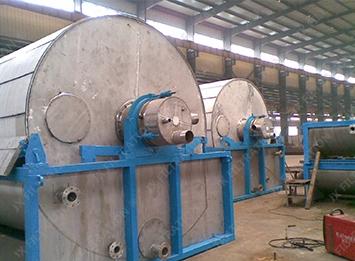 Discharge Methods
The Vacuum Rotary Filter can discharge its filtered cake by means of any one of several discharge arrangements. Normally a discharge device will be selected based on the process material characteristics and how readily it is released from the filtering media.

● Scraper Discharge: is the most common drum filter discharge. After dewatering, the cake is removed from the filter cloth by a scraper blade just prior to the re-submergence of the drum. The scraper serves mainly as a deflector to direct the cake, dislodged by an air blowback, into the discharge chute. 
● Precoat Discharge: is best applied to processes which have relatively low concentrations of solids or produce filter cakes which effectively blind the filter media.
● Roller Discharge: is especially good for thin, sticky cakes which have the unique property of sticking to themselves. The filter cake on the drum is pressed against a discharge roll packed with filter cake so that the thin cake is pulled or peeled from the drum. Solids are removed from the discharge roll with a knife blade.

● String Discharge: best applies to thin cakes and materials that are unstable and if disturbed too much will change from a solid to a liquid. Most generally applied in the starch and pharmaceutical industries, it is a system of endless strings or wires spaced about 0.5 inches apart that pass around the filter drum but are separated tangentially from the drum at the point of cake discharge. The strings return to the drum surface guided by two rollers with the cake separating from the strings as they pass over the rollers.
● Belt Discharge: offers the ability to discharge filter cakes and wash both sides of the filter cloth with each drum rotation. It offers the ability to discharge filter cakes and wash the filter media with each drum rotation. Many applications using this type of filter produce thin, sticky and wet filter cakes which are not easily discharged without the aid of a discharge roll.
Application
Metal Hydroxide, Waste -Gypsum (FDG) ,Municipal Waste ,Lime Softening Sludge Potato Waste ,CornGluten ,Aluminum
Vacuum Rotary Filter
Related Product
Vacuum Rotary Filter
Related Cases
Vacuum Rotary Filter
FAQ
Where is your factory?
We have three factories in Sichuan, Hebei, Jiangsu. Because the difference of customer locations, raw material price, factory wages and other considerations. In this way, we can provide the best quality product with lower cost.
Do you have a certification?
Yes. we have ISO/CE/BV/SGS/TUV certificate and patent certificate.
How about the delivery time?
Usually 1-15 days after prepayment is confirmed.
Do you have a design team?
Yes, we have. Providing drawing, electric drawing and others.
What is your payment?
T/T, L/C, Western Union, Paypal.
Can you provide certificate of origin?
yes, we can provide CO as well as FORM E, FOEM F and etc.
Can you accept OEM?
Yes, we could do OEM for you.
Can you send me a sample?
Yes.1-3 days for delivery.
Vacuum Rotary Filter
Our Service
Professional Pre-sale
Service

Filtration method and
equipment recommendation.

Free CAD or 3D
drawing provided.

Free phone call.

Complete Service
During Sales

On time delivery.


Equipment inspection
by photo or video.

Secure and standard
package provided.
After Sales Service


Installation assist by
phone call or video.

Free accessories provide
for maintenance.

Engineer sent for
solving onsite problem.